Thailand Panorama Land Tour: Discover the finest of Thailand in just 5 days on your private personalized tour.
Dive into a handpicked selection that includes must-see attractions, cities, temples, and significant destinations, ideal for your first journey to this enchanting land. Experience the unforgettable and uniquely Thai – from UNESCO heritage sites, vibrant markets, and local daily life to its rich art and religious tapestry.
Plus, navigate in style with our unique local transportation options and the comfort of our vans.
Embark on a tailor-made adventure in Thailand, carefully crafted to ensure your experience is distinctive and memorable.
Your Thai adventure, your way.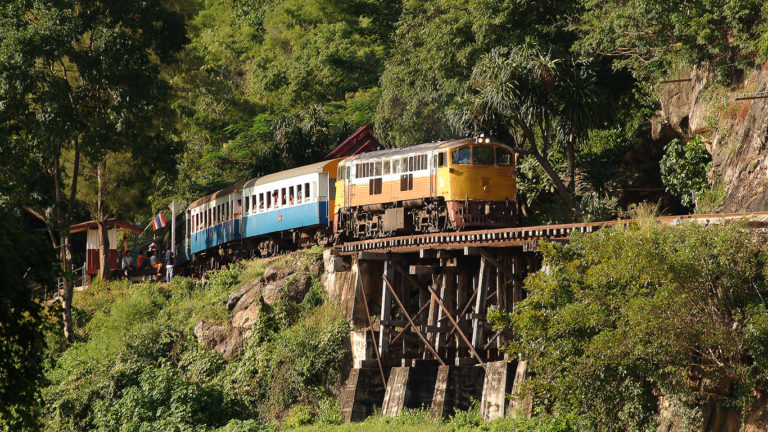 Tour Highlights
Day 1. Bangkok to Kanchanaburi Highlights: Start your day from your Bangkok hotel in the morning with your personal guide by your side.
Enjoy the journey in a private executive van, driven by our dedicated driver.
Travel from the lively streets of Bangkok to the peaceful surroundings of Kanchanaburi, exploring iconic markets and stepping back in time at historical sites.
Maeklong Train Market: Witness the unique sight of vendors pulling back their stalls for oncoming trains at this bustling market.

Damnoen Saduak Floating Market: Navigate picturesque waterways on a traditional long-tail boat, taking in the charm and ambiance of the famed market set against a backdrop of coconut palms, traditional homes, and temples.

River Kwai Bridge: Delve into the history of this iconic bridge, followed by a riverside lunch at the Floating Restaurant.

Tham Krasae: Explore Krasae Cave, a World War II historical site, adorned with serene Buddha images.

Death Railway Journey: Ride the train built by WWII prisoners, offering breathtaking views as it travels over the wooden viaduct against the mountainous backdrop.

Jungle Resort Stay: Conclude the day with a scenic boat transfer and an overnight stay amidst the tranquil jungle.

Day 2. Ayutthaya & Sukhothai Highlights:
Ayutthaya Exploration: Discover a curated selection of UNESCO-listed temples in the historic city of Ayutthaya, showcasing its spiritual and architectural splendor

Wat Phra Si Sanphet: A temple within royal palace grounds that once showcased a grand 16-meter gold Buddha statue.
Wat Chaiwatthanaram: A riverside testament to Ayutthaya's rich architectural legacy.
Wat Mahathat: Renowned for its iconic Buddha head entwined in tree roots, it symbolizes the harmonious blend of history and nature.
Wat Yai Chaya Mongkhon: While not part of the UNESCO heritage list, this notable monastery features a majestic spire and a revered reclining Buddha. It remains a key pilgrimage site for locals.

Sukhothai Journey & Stay: After delving into Ayutthaya's rich past, continue to Sukhothai. Here, relax in a traditional resort that truly captures the essence of the region.

Day 3. Sukhothai & Chiang Rai Highlights:
Dawn Alms Offering: Begin the day with the tranquil tradition of offering alms to monks at the scenic Wat Traphang Thong.

Sukhothai Historical Park: Discover the grandeur of this UNESCO World Heritage site, showcasing the roots of the first Kingdom of Siam. Enhance the experience by touring on bicycle, and witness the iconic Buddha at Wat Si Chum.

Chiang Rai Voyage via Phrae: Journey to Chiang Rai, pausing in Phrae to explore the colonial Vongburi House and its temple. En route, marvel at the White Temple's striking architecture.

Chiang Rai Stay: End the day in a tranquil riverside hotel, soaking in serene views and unwinding in a peaceful setting.

Day 4. Chiang Rai to Chiang Mai Highlights:
Blue Temple: Marvel at Wat Rong Suea Ten, a temple uniquely blending modern design and traditional motifs with its brilliant blue facade.

Golden Triangle Exploration: Journey to where Thailand, Laos, and Myanmar meet. Dive into history at the Opium Museum in Chiang Saen, and savor panoramic views from a Mekong River vantage point.

Kok River Cruise: Board a long-tail boat at the Karen village of Baan Ruammit. Revel in stunning riverside views, visiting places like the Akha hot spring village, the Lahu village of Hat Yao, and a school in Jakue village.

Riverside Lunch & Journey to Chiang Mai: Enjoy lunch by the river in Tathon before heading to Chiang Mai.

Chiang Mai Stay: Unwind at a 5-star centrally located hotel, prepping for the next day's adventures.
Day 5. Chiang Mai Highlights:
City Exploration:

Doi Suthep Temple: Admire its gleaming stupa and panoramic city views.
Wat Phra Singh: A showcase of intricate Lanna architecture.
Wat Chedi Luang: Known for its towering chedi that once held the Emerald Buddha.

Optional Elephant Sanctuary Visit:

Engage in a responsible and ethical encounter with elephants.
Participate in memorable activities, such as bathing them.
Note: Opting for the sanctuary might adjust the city tour schedule
At the end of the day, a private transfer will take you to Chiang Mai Airport for your flight to Bangkok or an island getaway.
Remark: Some excursions may be subject to changes due to weather conditions, road conditions, period of travel, etc.
This tour is a land-based, multi-destination journey. While some travel legs can be extensive, rest assured that our van is designed for utmost comfort, ensuring a pleasant ride throughout.
If you have 6 days at your disposal, we can adjust the itinerary for a less pressing pace, allowing you more time to savor each destination.
Hotels
Kanchanaburi: Traditional Thai resort with a river view.
Sukhothai: 4-star traditional Thai resort.
Chiang Rai: 4-star boutique resort nestled along picturesque riverbanks
Chiang Mai: 5-star Hotel.
(Luxury accommodations upon request).
---
Enhance Your Bangkok Experience!
Begin Your Thai Journey in Bangkok with us!
Before embarking on our handcrafted tours, consider soaking up the allure of Thailand's capital.
Effortless Arrival: Smooth private airport-to-hotel transfers.
Stay in Elegance: Enjoy two nights in a 5-star hotel with stunning river views.
Discover the Capital: Experience the city's landmarks and hidden treasures on a personalized private tour.
Let Bangkok set the tone for your remarkable Thai adventure!
Oriental and Beyond. Exclusive Destinations Designer in Asia since 2006.
Local Tour Operator based in Thailand
Direct Travel Organization and Planning
Exclusive, Private, Tailored-to-Your-Preferences Travel Service
Our land tours feature private Executive vans, personal drivers, private guides, and accommodations in distinctive hotels and resorts.
24/7 support at every destination, ensuring a seamless journey throughout
Private airport transfers. Available for guests who book their Bangkok stay with us.
International flight booking on request
Your Choice of Rooms in the best selected hotels and resorts
Thousands of Happy Guests Since 2006
---
Explore Asia with our tours! Inquire now or customize your own itinerary.