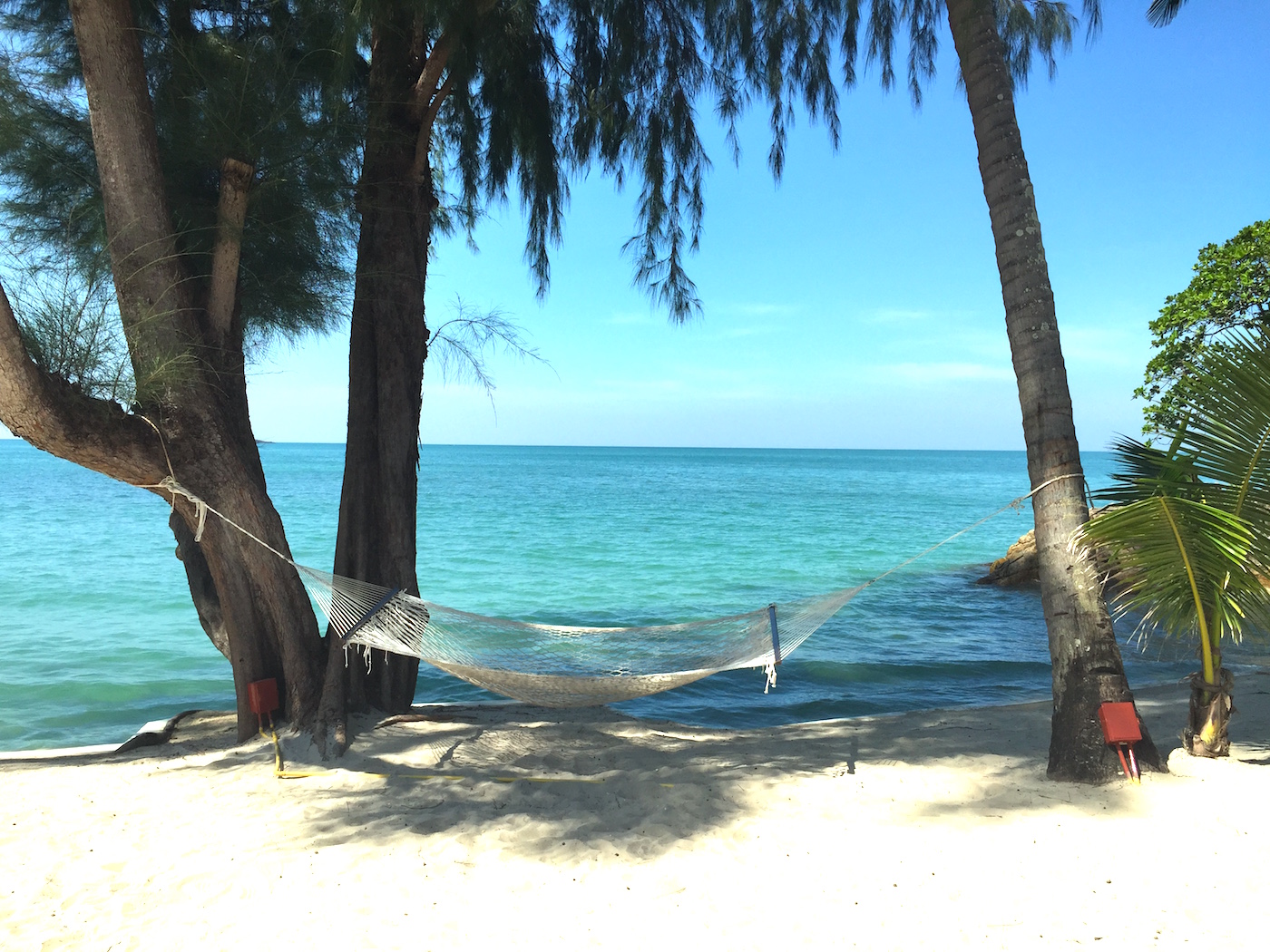 Koh Chang
A stretch of long white sandy beach dotted with coconut tree orchards is a common sight on Ko Chang the largest and busiest island in Trat and the second largest island in the country after Phuket.
Covering an area of 429 square kilometers, Ko Chang, boasts several amazing natural wonders that blend magnificently with the traditional way of life such as 70 percent undisturbed island rainforest, steep hills, cliffs, waterfalls, and notable wildlife, fine beaches, coral reefs and an abundance of marine life. In addition, numerous fruit orchards dot the island.
Most of the scenic beaches and bays are on the west side spreading from the north to the south they include Ao Khlong Son , Hat Sai Khao , Hat Khlong Phrao and Hat Kai Bae.
A road cuts through the western shore almost reaching Hat Kai Bae where there is a nature trail passing through Ao Bai Lan and Ao Kruat and meandering through wet forestland to Ban Bang Bao, a fishing community on the foot of the hill in the south.
To the east are Ao Sapparot, where a ferry landing is situated and Ao Salak Khok.
In addition, along the eastern shoreline is a road cutting through to Ao Salak Phet, a community with a boat pier to the south of the island. Coral ranges worth visiting are at Ao Khlong Son near Ko Chang Noi and around islands south of Ko Chang.
In addition to sea-based attractions Ko Chang has numerous inland attractions including several waterfalls with reasonable access.
They are the Khlong Phlu waterfall, 3 kilometers from Ao Khlong Phrao and a further 20 minutes on foot; Khlong Nonsi waterfall, a 4-kilometre walk from park headquarters; and Khiriphet and Khlong Nung falls, which are about 3 kilometers from Ban Salak Phet.
As well as the obvious activities Ko Chang offers many other attractions including waterfalls, temples, the National Park and Museum or the beautiful scenic lookout points, which are all worth a visit.
Divers will find fascinating diving areas off of the shores of Ko Chang and the surrounding islands. Besides the many coral reefs, sunken warships, a reminder of times past, can be visited in the Salak Phet Bay.
The Ko Chang National Park occupies an area of 650 square kilometers and is comprised of 47 islets, which spread from Laem Ngob to Klong Yai Districts.
The most popular islands includes Ko Chang, Ko Klum, Ko Ngam, Ko Lao Ya and Ko Rung where natural wonders await travelers.
The most popular season for traveling to the National Park is from November to March.
The park headquarters are divided into 4 units namely Tha Than Mayom, Ban Khlong Son, Tha Khlong Plu and Ban Salak which provide useful tourist information.
At any one of the headquarters, an entry fee of 200baht is collected.
Pattaya
Pattaya is nestled along a picturesque bay on the East Coast of the Gulf of Thailand, roughly 170 kilometers southeast of Bangkok. From a fishing village in the 1960's, Pattaya has emerged as the favorite Southeast Asian vacation center.
A fascinating escape where tourists, holiday makers and vacationers from around the world unfold an incomparable array of possibilities to unwind during an exotic holiday beach vacation.
Unlike other beach resorts, where natural surroundings are used as magnets to attract tourists, Pattaya makes an all-out attempt to provide the best of everything.
Here, everything means everything a tourist can imagine while on holiday: recreation, entertainment, sports, sightseeing and fun.
To put it simply, Pattaya is a paradise for everyone, as it has a variety of attractions suitable for all types of visitors. This is the place where you can fill your day, from dusk to dawn, with endless activities, or you may choose to do nothing at all and relax.
The past:
Pattaya's name was originated from the march of Phraya Tak (later known as King Taksin the Great) and his followers from Ayutthaya to Chanthaburi just before the fall of the Ayutthaya Kingdom to the Burmese invaders in 1767.
When Phraya Tak's army arrived in the vicinity of what is Pattaya today, he encountered the troops of Nai Klom who tried to intercept him.
When the two leaders met face to face, Nai Klom was awed by Phraya Tak's dignified manner and his army's strict discipline, thereby surrendering without a fight.
The place where the two armies confronted each other was later called Thap Phraya, which means the Army of the Phraya.
This was later changed to Phatthaya, which happens to mean the wind blowing from the southwest to the northeast at the beginning of the rainy season.
Today the spelling of the name has been simplified to Pattaya. For centuries, Pattaya was a small fishing village almost cut off from the outside world.
But a big change occurred on 29 April 1961 when the first group of about 100 American servicemen who would join the Vietnam War arrived in Pattaya for relaxation.
Soon, sleepy Pattaya became Thailand's premier and most successful beach resort, which annually attracts hundreds of thousands of pleasure-seeking visitors.
A full range of accommodations from super deluxe hotels to bungalows and mini-pocket guesthouses replaced fishermens huts along the beach.
Fishing vessels were adapted to become tourist boats and swimmers and sunbathers from various parts of the world frequented the quiet powdery golden beaches.
Places of nighttime entertainment have also sprung up and are popular among international tourists.
The present:
Pattaya currently integrates the delights of a 1st class beach resort, city-like dining, shopping and night entertainment facilities with more than 300 assorted hotels, thousands of shops, restaurants and bars.
In addition, there are an array of sports and recreational activities including beaches, golf courses, tennis courts, go-kart, gyms for working out, weight lifting and Thai-boxing gear.
Pattaya offers a broad range of things to do. During the day, one may enjoy riding elephants or driving humble automatic mini-bikes, monstrous motorcycles, or even monster multicolored convertible Jeeps. Others go for shooting firearms, scuba diving and surfing, deep-sea fishing, speed boats, scooters, water-skiing, parasailing, or aerial sports such as gliding ultra-lights and flying motor-propelled gliders. On the other hand, at night, there are restaurants, bars, theaters, cabaret shows, night clubs, bowling halls, billiard & snooker clubs, discos, sauna & massage parlors, not to cite its absolutely incredible shopping which is available non-stop both day-and-night.

Pattaya facts:
This exotic beach resort welcomes approximately 5 million visitors a year.
The friendly and hospitable Thai nature boosts its promotion, frequently bringing back the repeat visitors and constantly increasing the number of newcomers.
Pattaya city is located on the eastern coast of the country at latitude 13 N and longitude 101 E in the area of Chon Buri province.
It is 147 kilometers from Bangkok and lies parallel to Sukhumvit Road on its east and the coastline on its west. Pattaya occupies an area of 208.1 sq. km. that is divided into 53.44 sq. kilometers of land and 154.66 sq. kilometers of islands and sea. Its coastline is 15 kilometers long.
Pattaya has a plain on the coast with some high mountains to the south. The area on the east slopes down towards the sea on the west.
Pattaya at night:
The variety of nighttime activities continuing until dawn is so diverse that every person would easily find diversions appealing to individual tastes and moods.
Most likely any fantasy can be fulfilled, especially after sunset. After dark, the extension of Beach road in South Pattaya turns into a promenade (disallowed only for public transport), transformed into one of the hottest nightspot.
A hunting ground beaming with neon lights and music, where fellow holiday-makers youths & aged alike, find an endless array of dining, shopping or entertainment establishments.
Worthy of notice is the disco in Pattaya. A disco is not just a dance palace, but more of a hi-tech extravaganza filled with flashing lights, trendy music, and fun loving crowds.
Pattaya is famous for its incredible nightlife activities, and South Pattaya is the jewel in its crown outshining the rest with an incredible array of things to see and do. One can enjoy Thai-boxing or some glaring erotic shows, a wide variety of fascinating shops, restaurants, bars, clubs, discos and other pleasurable establishments, side-by-side with all kinds of shopping.
The only required skill is that of time management, so one can experience all the wonders and be on time for what is next.